Do you own a chromebook? Do you wish to download Fortnite on your Chromebook and play? you are in the right place.
This tutorial explains the step-by-step process of how to play Fortnite on a Chromebook. While many people are sceptical if they get to play this video game using a Chromebook, this post says it is very possible as long as you are willing to put the work in.
You can play Fortnite on your Chromebook.
Important note: Not all Chromebooks able to run heavy games like Fortnite.
1.Enable Developer/Recovery Mode on your Chromebook
Before starting the process, we will first need to install an APK in our Chrome operating system. Chromebook comes with default security features that prevent anyone from installing external and unauthorized applications other than those available in google play store.
It is important to note that enabling Developer mode will erase all your accounts and the local data from your Chromebook.
So lets go to the process
How to play Fortnite on Chromebook
We already completed our first step. Now What you have to do is to install the file manager app on our Chromebook before installing Fortnite.
How to install iTunes on Chromebook
Download the File Manager App
1.First look for the time indicator of your Chromebook. You can easily find it on your screen's bottom-right part. Hover your cursor on it then it will launch a popup menu.
2.Click the Settings icon. This can be found on the menu, It will navigate you to the Settings of your computer.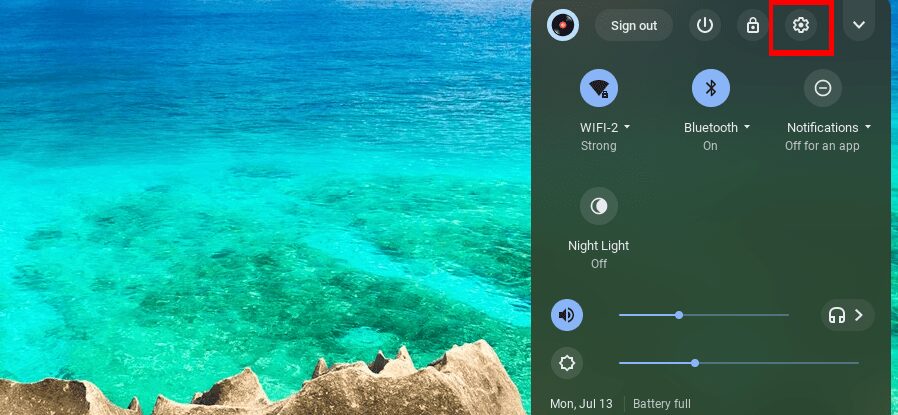 3. Enable the feature "Install apps and games from Google Play on your Chromebook." Under your settings, now look for the Google Play Store section. This will then navigate you to a new window.
Now, if you haven't check this option probably run outdated Chrome OS software and there is a need for you to update your Chromebook with the most recent Chrome OS software.

If after updating to the latest OS you still do not see this option, it means that your Chromebook is not compatible to run android apps.
4. Now read and agree to the Terms of Service of Google. You have to click "I Agree"  to use Google Play on your Chromebook. Now you can download apps from the Play Store, including the file manager app also.
5. Under the Android Apps option, click the blue App Settings link. This will give you access to the app settings and options.
6. Change your security settings. You can enable this option by clicking the Security under your Chromebooks app Settings tab.
7. Under Device administration, you have to enable Unknown sources so you download and install an app from external sources. You have to set it to "Allow installation of apps from unknown sources."
8. Click the Google Play Store icon. This will let you launch the Play Store.
9. Now search for the file manager app. You have the option to download a free or a paid one.
It is important to check for the ratings and reviews from other users before downloading it and to make sure you are getting the right one for your Chromebook because there's various file manager app available on the Google Play store.
How to block youtube on Chromebook
This is very important if you going for a paid one. Otherwise, your money can be wasted.
so let's solve the query can you play Fortnite on a Chromebook.
Download Fortnite
1. Launch your browser.You can use any browser of your choice in Chromebook.
2. Now navigate to this highlighted link: https://www.epicgames.com/fortnite/en-US/mobile/android/get-started. you will be redirected to the Android beta of Fortnite that is compatible with your Chromebook. It will also direct you to the download page.
3. Now download the APK file from the given link by clicking the yellow Download button. Using the APK file, you can then install the Fortnite app.

If you can't find the android option on the list You can also follow another method to download the file. First, open the above link on your smartphone or tablet and download the app.
Next, transfer the downloaded APK file to your Chromebook by using any file sharing method. You can also transfer it through a file-sharing app or by using cloud storage like google drive.
4. Launch the file manager app that you have downloaded from Google's Play Store.
5. In the file manager app, locate the Fortnite APK file. Select it.
6. Install the Fortnite app. after successfully installing the app, you can now begin to play this exciting game. You can use a USB gaming mouse to maximize your online game playing experience.
And one more thing please make sure to double check everything before use.
Still have the question can you play fortnite on a chromebook ?
Conclusion
Congratulations! You have successfully downloaded Fortnite on your Chromebook. With the steps above, now you can play this most favourite online video game anywhere anytime in your Chromebook.
Good bye and have a nice and shining day to you.
We will eager to know about your experience in the comment. If you face any problem or stuck anywhere you can let me know in the comment I try my best to solve it